In 2018, the American Community School of Abu Dhabi's Board of Trustees and newly appointed Superintendent Monique Flickinger led a community-wide effort to map out the near-term future for ACS.
Town-hall conversations among parents, faculty and staff, in addition to thoughtful survey responses, helped craft the way forward. A group of 30 community leaders participated in three days of planning. The school's leadership team then collaborated to sketch out a plan of action that was approved by the Board in May 2019. The team also developed a data dashboard aligned to the mission and vision of our school.
This strategic plan will ensure that ACS delivers on its mission to Empower Students to Shape the Future. In the years covered by this strategic plan, the American Community School of Abu Dhabi will celebrate its 50th birthday. It is the belief of the community that ACS must both stay true to its roots and look toward the future with clarity, ambition and purpose.

Four priorities - each grounded in the school's vision, mission and core values - comprise the heart of the strategic plan. Moving forward, the school is committed to personalizing learning, growing community, delivering excellence and inspiring global citizens. Within each of these objectives are three strategies intended to achieve each desired outcome for the school. This framework will guide ACS' decisions, practices and investments in the years ahead, and will guarantee the school grows as a compassionate, student-centered community of learners that engages, prepares and inspires.
Priority #1: Personalize Learning
Offer a highly engaging, flexible and innovative core curriculum
Meet the unique needs of learners requiring additional support
Establish structures and resources to challenge uniquely motivated and talented students 
ACS learners are a dynamic group. They are self-directed students who are curious problem solvers and resourceful critical thinkers. To serve them well, ACS recognizes the need to further evolve its curriculum and offer flexible and innovative programs that meet their varied needs and talents.
In the Middle and High schools, this means working toward a flexible core curriculum and improving alignment between schedules, allowing students more choices in classes and better use of school facilities.
Throughout all divisions, this commitment to personalizing learning means continuously attracting and retaining world-class faculty and staff with the expertise to implement the structures and experiences necessary to best serve our children. 
Priority #2: Deliver excellence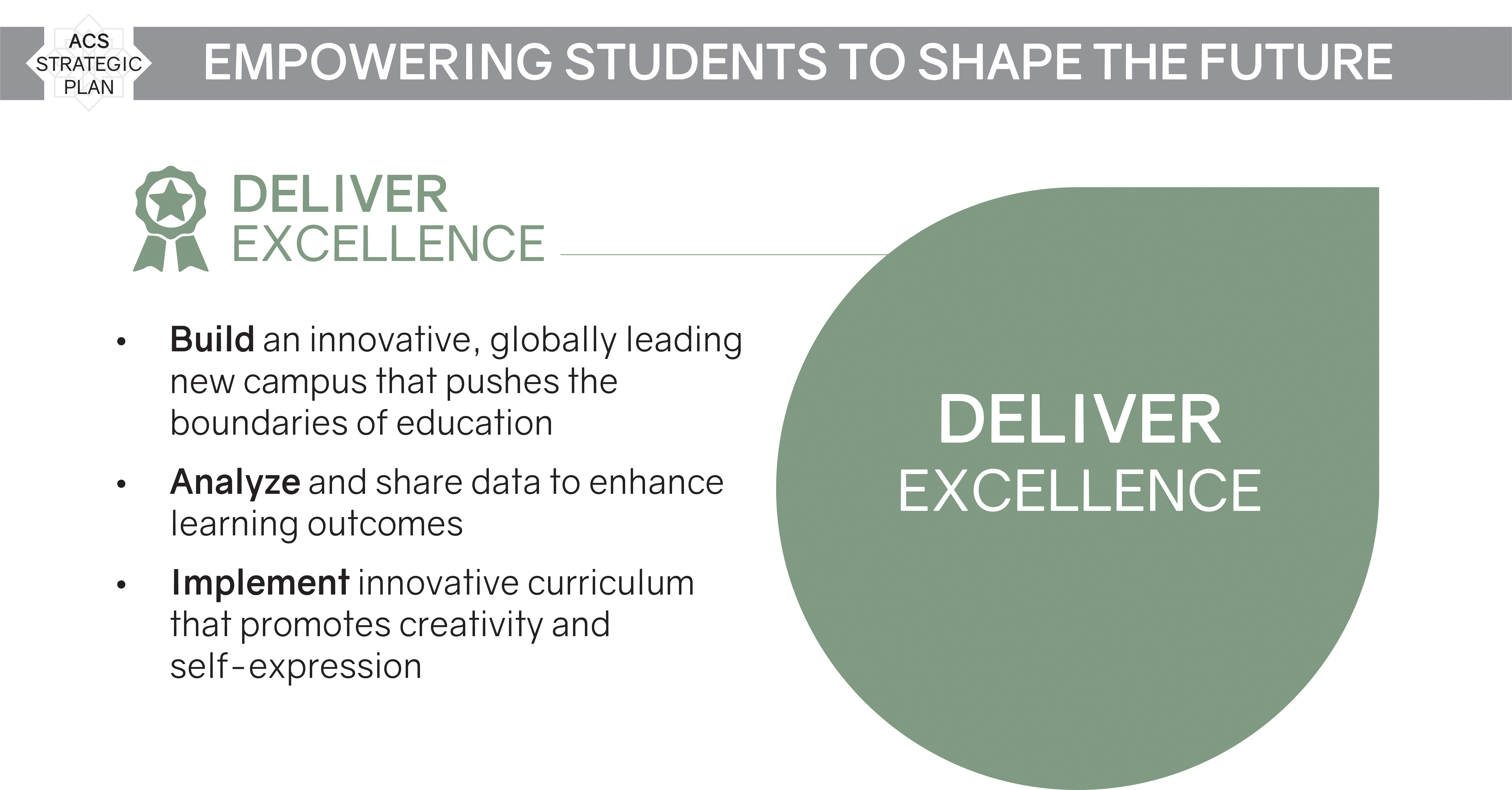 Build an innovative, globally leading new campus that pushes the boundaries of education
Analyze and share data to enhance learning outcomes
Implement innovative curriculum that promotes creativity and self-expression
A core value at ACS is courage. As a school community, we instill in our students the confidence to take risks and do what is right, and we model this value with bold and courageous decisions of our own. As such, ACS is committed to building a new campus, an ambitious initiative supported by the UAE government and key stakeholders, that will guarantee ACS delivers an excellent educational experience for its students.
A new campus will allow ACS to create learning spaces for academics, arts, athletics and service-learning programs that push the boundaries of traditional education, allowing our children to envision and prepare for their futures. Innovative and flexible spaces that house an innovative curriculum will promote creativity and self-expression.
A larger campus with room for small growth in the student population will enable us to expand programmatic offerings. With excellent fiscal management and sound budgetary decisions, ACS will build a sustainable, technologically-advanced campus that is a globally recognized leader in the international school community.
Delivering excellence also requires us to reflect on and analyze our progress in and out of the classroom in a myriad of ways. We are committed to assessing and sharing data to enhance learning outcomes. We share our school-wide academic results from various achievement tests, along with other data supporting our four pillars: academics, arts, athletics and service learning. 
Priority #3: Inspire global citizens
Strengthen school-wide service learning program to nurture global citizenship
Provide social-emotional wellness programs to promote well-being and build confidence
Enhance world languages model, including a leading Arabic program, for greater cultural understanding
We take pride in the compassion and integrity evident in our ACS learners from the earliest years through to the High School. They are active listeners and truly global citizens, representative of 56 nationalities, who empathize with others and appreciate the value of difference. To do right by them, ACS will strengthen its school-wide service learning program and enhance its world languages model, while building a leading Arabic program, in the years ahead.
We will expand upon efforts already underway, including experiential education and out-of-country service trips through Viper Ventures for High School students, Week Without Walls for Middle School, the 15 service clubs aligned with the Sustainable Development Goals of the UN and service opportunities for our youngest learners. 
At the same time, ACS recognizes the ability for children to look outward is contingent upon inner strength and wellness. In this strategic plan, ACS commits to building social-emotional programs to promote the well-being of its students, giving them the self-respect and self-care necessary to use their voices to engage in critical conversations as global citizens.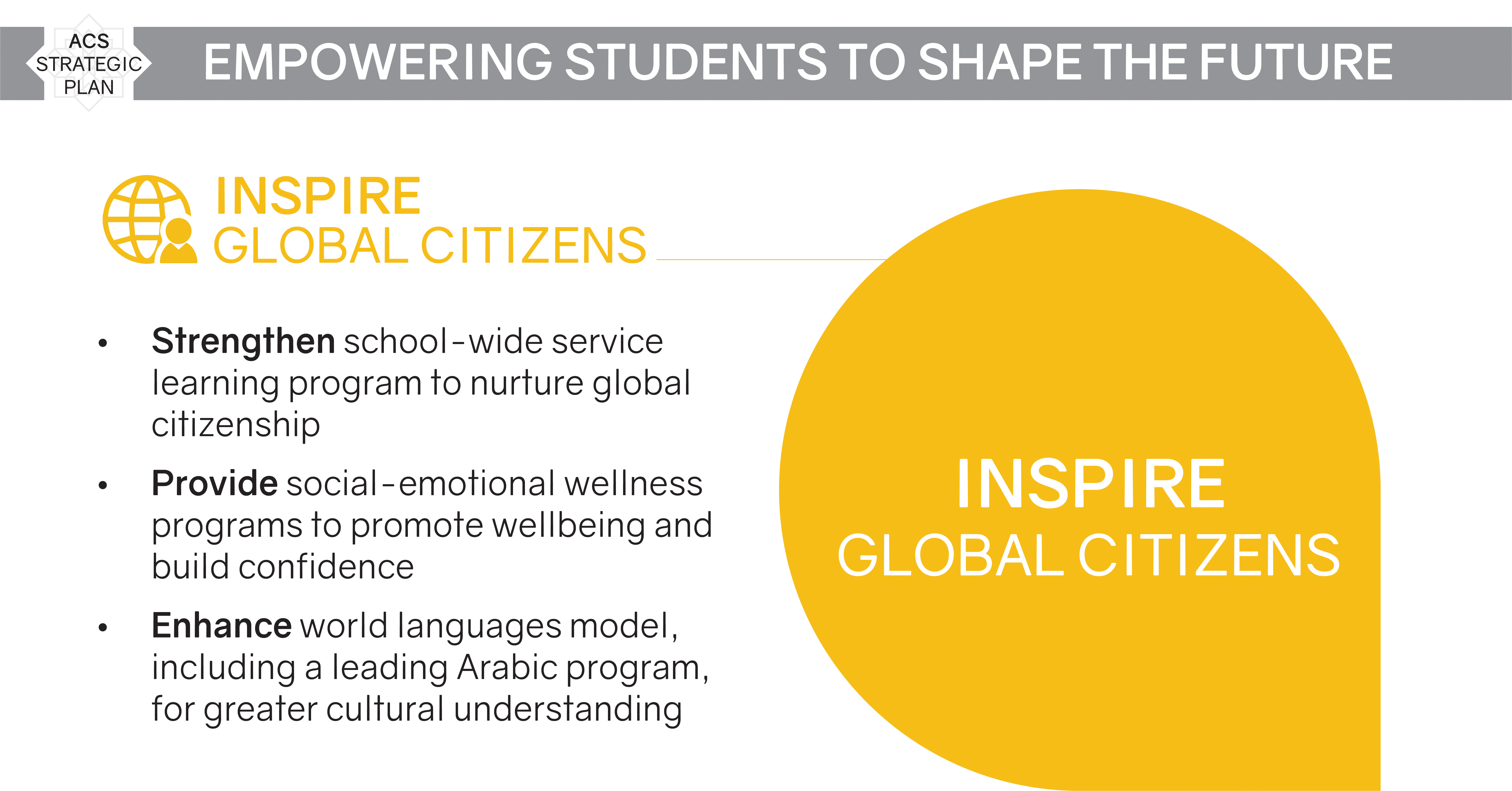 Priority #4: Grow Community
Advance a shared understanding of who we are and what we do 
Deepen relationships with external partners and leading universities
Distinguish ACS as an internationally recognized, leading institution
Alumni of the American Community School have spread out across the world, excelling in the world's best universities, thriving in the arts and athletics, and serving their broader communities with courage, curiosity, compassion and integrity.
Many of these alumni are leaders right here in the UAE - leaders who have been instrumental in the nation's growth and success and have simultaneously made time to connect with our students to provide them with career insight and opportunities.
It is time for the school to share these stories with the broader international community and those who do not yet know who we are and what we do. ACS will grow stronger by deepening relationships with external partners and leading universities, communicating its story and spreading the word about how this community and program play a key role in shaping its graduates.
As we distinguish ACS as an internationally recognized institution, we will broaden our circle of partners and champions.
Established in 1972, the American Community School of Abu Dhabi is a non-profit, U.S. accredited college preparatory school serving a culturally diverse student body. Our American, standards-based curriculum provides excellence in academics, the arts, athletics and service learning.
Mission
Our community empowers all students to define and shape their futures for learning, service, and global citizenship.
Vision
We are a compassionate, student-centered community of learners that engages, prepares, and inspires.