The UAE Ministry of Education requires students to wear a school uniform. All ACS students, KG1 - Grade 12, wear the official ACS uniform to school every day. 
The ACS uniform is a collared shirt or t-shirt that is embroidered with the ACS logo, paired with an appropriate bottom in either solid khaki or black. Collared dresses are also available for students in KG1-Grade 5. All uniform tops must be purchased from the school uniform supplier. This includes ACS logo hoodies and fleece jackets.
Additionally, students in KG2 - Grade 12 are required to wear the ACS PE uniform for PE/gym classes.
purchase IN-STORE
You can book an appointment to visit our on-campus store with your child to ensure the right size. Visit www.trutex.ae, click book an appointment and select our school. If you have more than one child, be sure to book a separate appointment for each child.
To begin the 2023-24 school year, appointments will be available from Monday through Saturday, Aug. 3-31, from 8 a.m. - 4 p.m. Beginning in September, the store will be open Monday through Thursday from 8 a.m. - 4 p.m. and Friday from 8 a.m. - 1 p.m. for walk-ins. 
Purchase ONLINE
You can order online at www.trutex.ae with delivery direct to your door or collect from school. Check out the fitting and size guide to help you select the right size, but there are also easy returns both in-store or through a courier in case it's not quite right.
As part of the transition to the new uniform, we will permit students to wear uniforms and PE kits from the previous suppliers (Lands' End, Zaks or Kukri) or the new supplier (Trutex) for the entirety of the 2023-24 school year. Beginning August 2024, only Trutex uniforms will be allowed. 
Uniform Tops
Collared polo-style or T-shirts with the ACS logo are options for boys and girls. Students are not permitted to wear non-uniform tops during the school day. This includes sweaters, sweatshirts, jackets or other outerwear that does not have the ACS logo. If students need an additional layer of clothing, it must be approved ACS uniform outerwear.
Uniform Dress
A collared polo-style green ruffle dress with the ACS logo is an option available for girls in Elementary School.
Uniform Bottoms
ACS does not mandate a specific article of clothing for the bottoms. As long as bottoms meet the specified guidelines, families can buy them from any store they wish.
Bottoms need to be plain/solid BLACK or KHAKI in color and meet dress code guidelines (no rips, tears or cut-outs). (Note: Navy blue or gray bottoms are not acceptable. Bottoms may not have white or colored stripes down the legs.)
For both boys and girls in the Middle School and High School, shorts, skirts, dresses and skorts must come to the knees.
Leggings are not acceptable in Middle School or High School (unless they are worn under a knee-length skirt or dress).
Any logo on the bottoms must be the same size or smaller than the logo on your ACS uniform top.
dailywear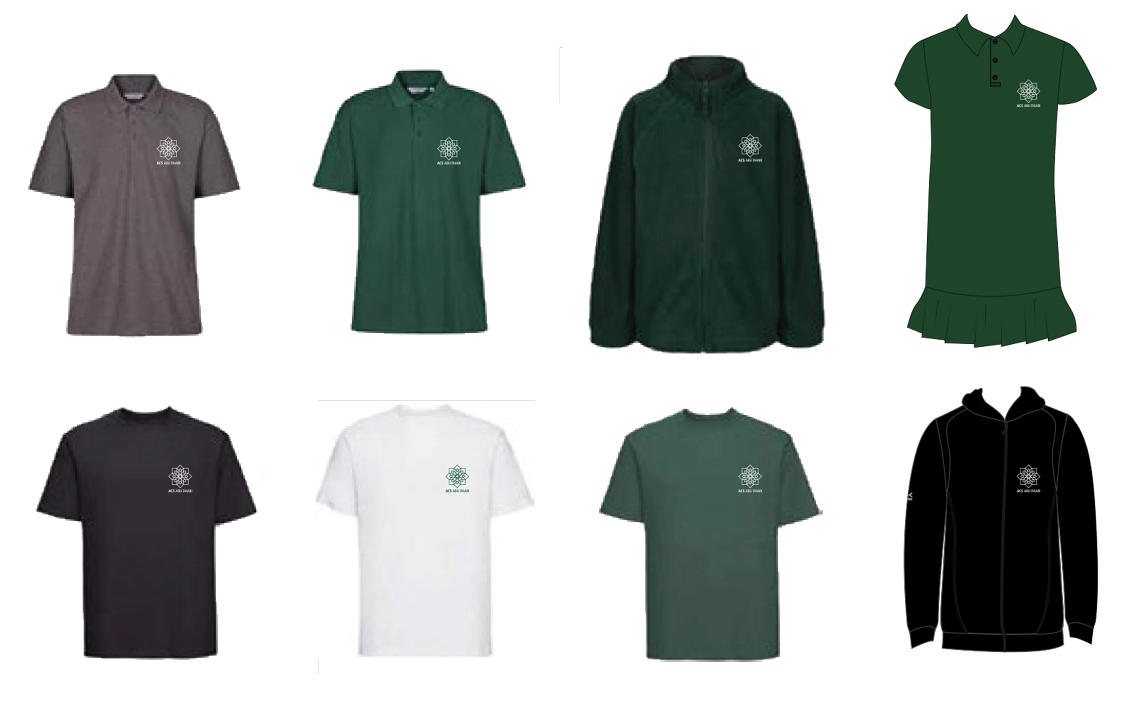 PE Kit
Physical Education (PE) Uniforms
Students in KG2 - Grade 12 are required to wear the ACS PE uniform for PE/gym classes. KG1 students have the option to wear the ACS PE uniform or their regular ACS Uniform on PE/gym class days. PE uniforms are purchased through ACS' on-campus store.
Students in KG2 - Grade 5 wear their PE uniform all day on the days that they have PE class.  
Students in Grades 6 -12 change in and out of their PE uniform for PE class.
The ACS PE Uniform is a green PE shirt, with the green PE shorts. If families require their child to wear pants for cultural or religious reasons or for warmth, they must be plain black sports pants (no stripes, logos, insignias, etc). An unbranded option is available in the school store. Tights or yoga pants are not permitted unless they are worn under PE shorts. PE pants must be brought specifically for PE purposes and cannot be the same pants worn as the school uniform that day.


Must Haves
All Middle School and High School students need a green ACS uniform polo shirt for school travel, band and choir concerts, etc. The travel uniform also includes khaki or black pants or a skirt (knee-length or longer) that meet dress code standards. Shorts are not permitted for travel.


 


Footwear
Middle School and High School students may wear the footwear of their choice. Elementary students may wear sneakers or sandals/Crocs with a secure heel strap. Flip flops are not acceptable footwear for Elementary School students.



 


Swimsuits
For students participating in swimming and aquatic activities, a regulation swimming suit is required (Personal swimsuits are fine. One-piece suits for girls.) All students with shoulder-length hair need to wear a swim cap during their PE swimming unit.



 
Additional ACS Uniform Options
Hoodies
Hoodies or fleece jackets with the ACS logo that is purchased from the school store can be worn on top of, or in lieu of, the normal uniform top. Outerwear purchased from the school store in evergreen, gray, white, black with the ACS Athletics or ACS Vipers logo on it can also be worn on top of, or in lieu of, the normal uniform top.  
Club Shirts 
Club/Athletic team shirts are only permitted on designated spirit/game days, or after the end of the school day.  
Performance Shirts 
Fine and performing arts exhibition/performance/show shirts are only permitted in the five days leading to the performance. The exception is if the design is pre-approved by the Director of Athletics and Activities before they are ordered and worn to school.
Class Sweatshirts 
The only grade permitted to create a class sweatshirt or top and wear it in place of a uniform top will be the Grade 12 class. 
Team Sweatshirts
MESAC, Junior Varsity and Varsity teams may design a sweatshirt to represent their team. These sweatshirts must adhere to all of the following rules:
Must be in one of the four approved colors:  Dark Green, Gray, White or Black
Must include the ACS logo above the heart or on the upper left sleeve
Must be approved by the Communications Office before they are ordered and worn to school
Can ONLY be worn on Thursdays and spirit/game days
These will be considered similar to a "letter jacket," and worn as a recognition of the honor of being on the MESAC team.
Athletic Tracksuits
ACS athletic tracksuits used by Junior Varsity and Varsity teams are not ACS uniforms. They may only be worn on team travel days.