Our High School students astound us with courage, integrity and resilience as they engage in opportunities that define and shape their futures.

Students in Grades 9-12 commit to a challenging, standards-based American curriculum, as well as initiate meaningful service work and develop as formidable teammates and artists. 
High School teachers and staff at ACS work diligently to awaken students' curiosity, equip our adolescents with the skills necessary to succeed in an increasingly complex and interdependent world, and ensure that our young adults gain an appreciation of the great intellectual, aesthetic and musical traditions which have withstood the test of time.

Amy Greene, High School Principal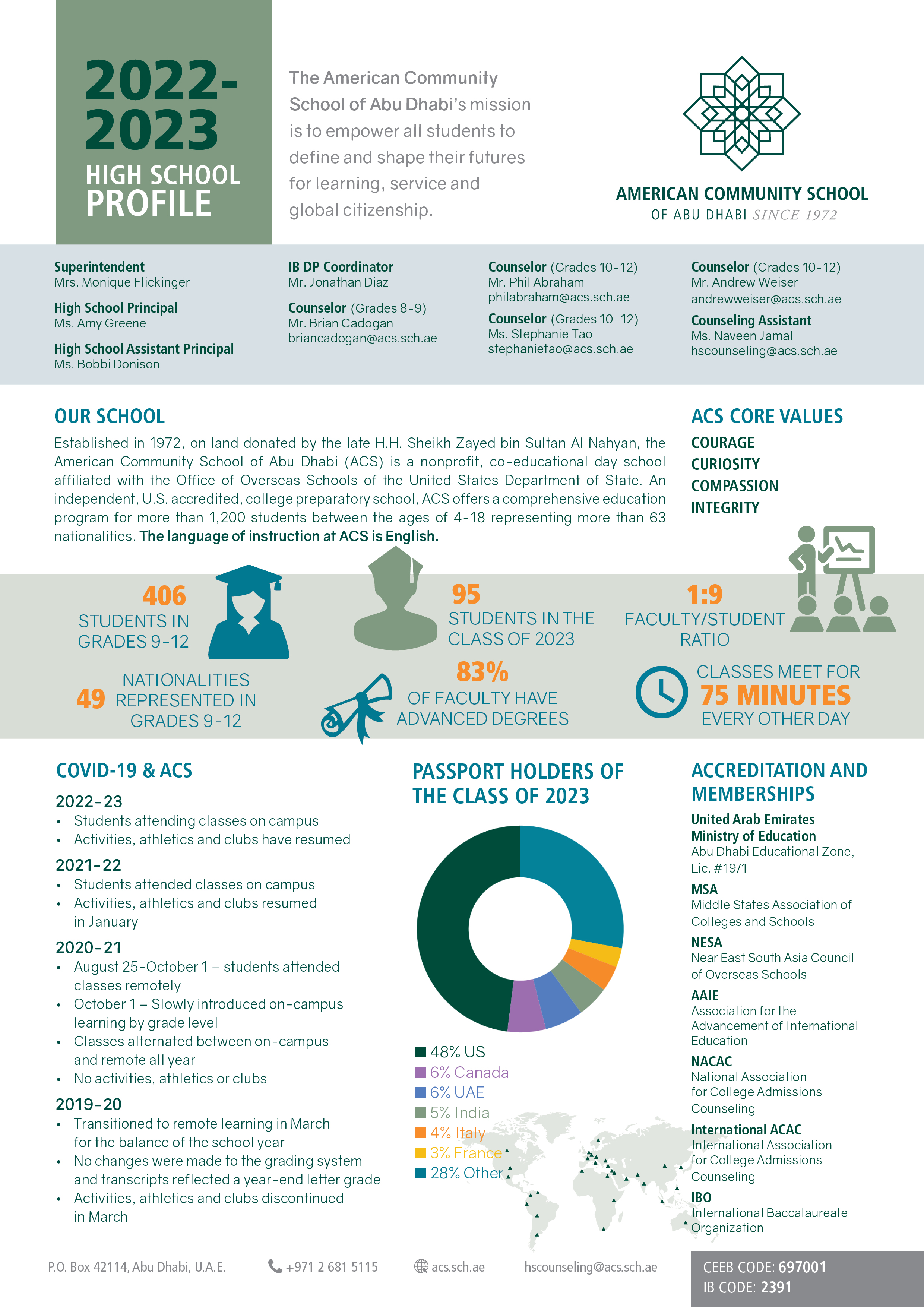 High School Profile 2022-2023
High School Program of Studies
Students in Grades 9-12 complete a rigorous and balanced program of studies in English, Social Studies, World Languages, Mathematics, Science, Creative Arts and Physical Education/Health. Students are encouraged to select a program of study that meets their ability-level, piques their interest, fulfills diploma requirements and furthers their university admission and/or career objectives. Beginning in 2018, an annual experiential learning program was built into the academic program to enhance and extend our curricular and co-curricular offerings. 
Grades 9 and 10
Courses created by ACS teachers ensure that students are well-prepared to enroll in the International Baccalaureate Diploma Programme, Advanced Placement courses or general high school courses in Grades 11 and 12. Students are required to enroll in eight courses. 
A typical course load for a Grade 9 student includes: English 9, Integrated Mathematics, Science 9, Global Studies 9, Physical Education 9, World Language and two electives.
A typical course load for a Grade 10 student includes: English 10, Integrated Mathematics, Science 10, US History or AP US History, Health / Physical Education 10, World Language and two electives. 
Grades 11 and 12
Students can choose to enroll in the IB Diploma Programme, Advanced Placement (AP) courses and / or ACS High School courses.
Grade 11 and 12 students are required to enroll in a minimum of seven credit-bearing courses. 
Explore our detailed Program of Studies and learn more about IB and AP pathways. 


 
CHILD SAFEGUARDING AND PROTECTION
The American Community School of Abu Dhabi is committed to safeguarding and promoting the welfare of children and young people. All employees must work in partnership with the school and take a shared responsibility to ensure a safe environment where all our children can learn and grow. Our Child Protection Handbook guides our practices for the safety and security of students.
High School Student Support Services
The High School Student Support Team works in partnership with students, faculty and parents to promote and develop academic achievement, social growth, emotional well being and post-secondary planning for all students. Team members provide a variety of developmentally appropriate services for students in Grades 9-12 within a dynamic program that continually evolves to meet the needs and challenges faced by our students. 
Our High School Advisory program is designed to provide a safe, caring and nurturing environment for students to help them build a connection to the school, grade level and one another. It also serves as a vehicle to ensure that every student is connected to at least one adult in the building. 
Athletics
Our student athletes are well-respected teammates, both on and off the playing field.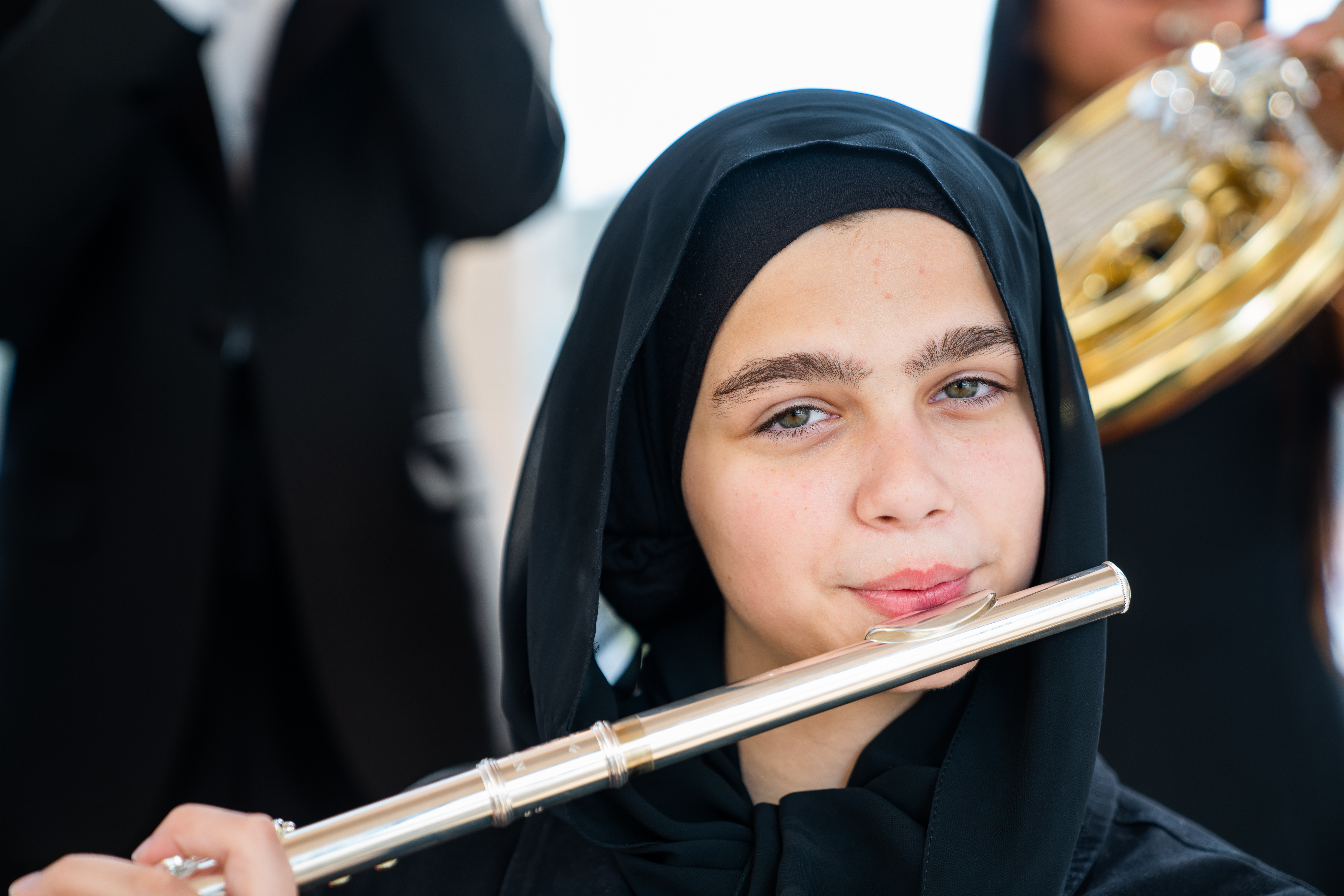 Arts
Creativity and excellence in the arts is part of our well-rounded High School education.
Service Learning
Meaningful and consistent engagement in service work is integral to the experience of our students. 
Viper Venture: Our Experiential Learning Program
Not every classroom has four walls. 
Every year, all High School courses are suspended to enable students to participate in a thoughtfully designed, experiential learning program called the Viper Venture. This unique opportunity is designed to enhance and extend our curricular and co-curricular offerings. The experiences may vary slightly from year to year, but includes diverse opportunities in Abu Dhabi and the UAE, as well those outside of the Middle East.
Recent Viper Ventures include: Cooking School, Scuba Diving, Filmmaking, Desert Trekking and service trips in Kenya, Cambodia and Nepal.