The Haitham Zamzam Al Hammadi Medal of International Friendship
Launched in 2018, the Haitham Zamzam Al Hammadi Medal of International Friendship is an annual award given to one Grade 11 ACS student for their contributions related to productive and positive global citizenry and for their commitment to our school's core values: Curiosity, Courage, Compassion and Integrity. Haitham Zamzam graduated from ACS in 2002 and remained a strong advocate and special friend in our community until his untimely passing in early 2017.
About Haitham Zamzam Al Hammadi '02
Born and raised in Abu Dhabi, Haitham graduated from ACS in June 2002 and remained an involved and active ACS friend until his untimely passing in April 2017. His ongoing collaboration with ACS stemmed from his belief that his education not only positively influenced his character, and later his perspectives in adult life, but formed the backdrop for some of the most cherished memories of his youth.
After ACS, Haitham earned a Bachelor's of Arts in Political Science from Richmond University in London (May 2007), and a Master's of Science in Human Resources Management from the University of Bradford in the UK (December 2009). Upon returning to the United Arab Emirates, Haitham went on to serve the Abu Dhabi Government and his country with great skill, modesty and commitment. His strengths lay in his interest and ability to form productive and long-term friendships – locally, regionally and internationally – with people, entities and other governments. Haitham served on the ACS Board of Trustees from 2015 to 2017.
Although still young, his diplomatic expertise was born out of a natural empathy and clarity of thought that earned him the respect of partners globally. As a son, brother, husband and father, Haitham always embraced family, including his wife Dana and their three children – Aliyah, Abdulla and Taliyah.
To all of us, Haitham was a trusted collaborator and genuine friend.
Award Recipient Responsibilities
When the Award recipient enters their Senior Year at ACS, they will fulfill the role of ACS Ambassador of International Friendship, with specific responsibilities and duties related to being the award recipient, which may include:
Speaking at an ACS school assembly to articulate the school's core values in relation to global citizenry
Writing an editorial that is published in a UAE newspaper that discusses the role of youth in global citizenry
Delivering a speech or presentation to an appropriate UAE entity or gathering
Taking part in a US delegation visit to the UAE
Having a one-week internship at a UAE government entity
Submission Evaluation:
The essay will be evaluated according to this rubric.
The annual student recipient is determined by the Medal Review Committee, following an evaluation of the essay submissions and student interviews.
The award recipient will fulfill the role and responsibilities of ACS Ambassador of International Friendship during his/her Grade 12 year. In addition, they will receive a medal, a certificate, and a monetary prize commensurate with the significance of the award.
Matthew Ayoub, 2023 Recipient
Matthew is the sixth recipient of the Haitham Zamzam Al Hammadi Medal of International Friendship Award. He was chosen from a pool of outstanding applicants who participated in a rigorous interview process and completed a 1,000-word essay, discussing their role as leaders of positive change, and how they can help create a more tolerant and inclusive world. During his Grade 12 year, Matthew will fulfill the role and responsibilities of ACS Ambassador of International Friendship.
Sophie Jones, 2022 Recipient
2022 recipient Sophie was an ACS student for 11 years, where she has learned "critical, big-picture thinking." Her experiences as an interracial adoptee Indonesian, Canadian and American inspired her advocacy for inclusion and diversity and led to her leadership in the school's human rights club, and its newly-formed Al Majlis group, a committee dedicated to promoting equity and belonging.
During her tenure as ACS Ambassador of International Friendship, Sophie attended several events and briefings, led ACS school assemblies and furthered her focus on environmental sustainability and water management. 
Taylor Campbell, 2021 Recipient
In May 2021, Taylor became the fourth recipient of the Medal in a small virtual celebration with her family, members of the ACS Senior Leadership Team, Haitham's family and EAA.
Some of her activities throughout the year include touring Hub71, taking a masterclass on the emirate's policy agenda and the Abu Dhabi Economic Vision 2030 and even going behind the scenes at the Abu Dhabi Grand Prix.
Read about her experiences in The National newspaper.  
Aarnav Patel, 2020 Recipient
Due to the Covid-19 pandemic, Aarnav's achievement was celebrated during a virtual ceremony on May 27, 2020, with Haitham's family members, along with representatives from ACS and the Executive Affairs Authority.
Aarnav's 12 years at ACS have nurtured a sense of responsibility, described in his essay submission as: "Part of ACS's mission has been to empower students in shaping their future for global citizenship; to raise leaders that can be at the forefront of positive social change." During the review Committee interview, Aarnav reiterated his convincing mission: "We are the future, and we cannot wait before we take responsibility for that future. Perhaps we will not convince every adult, but there are many kids to inspire, to join arms with, and to change our world."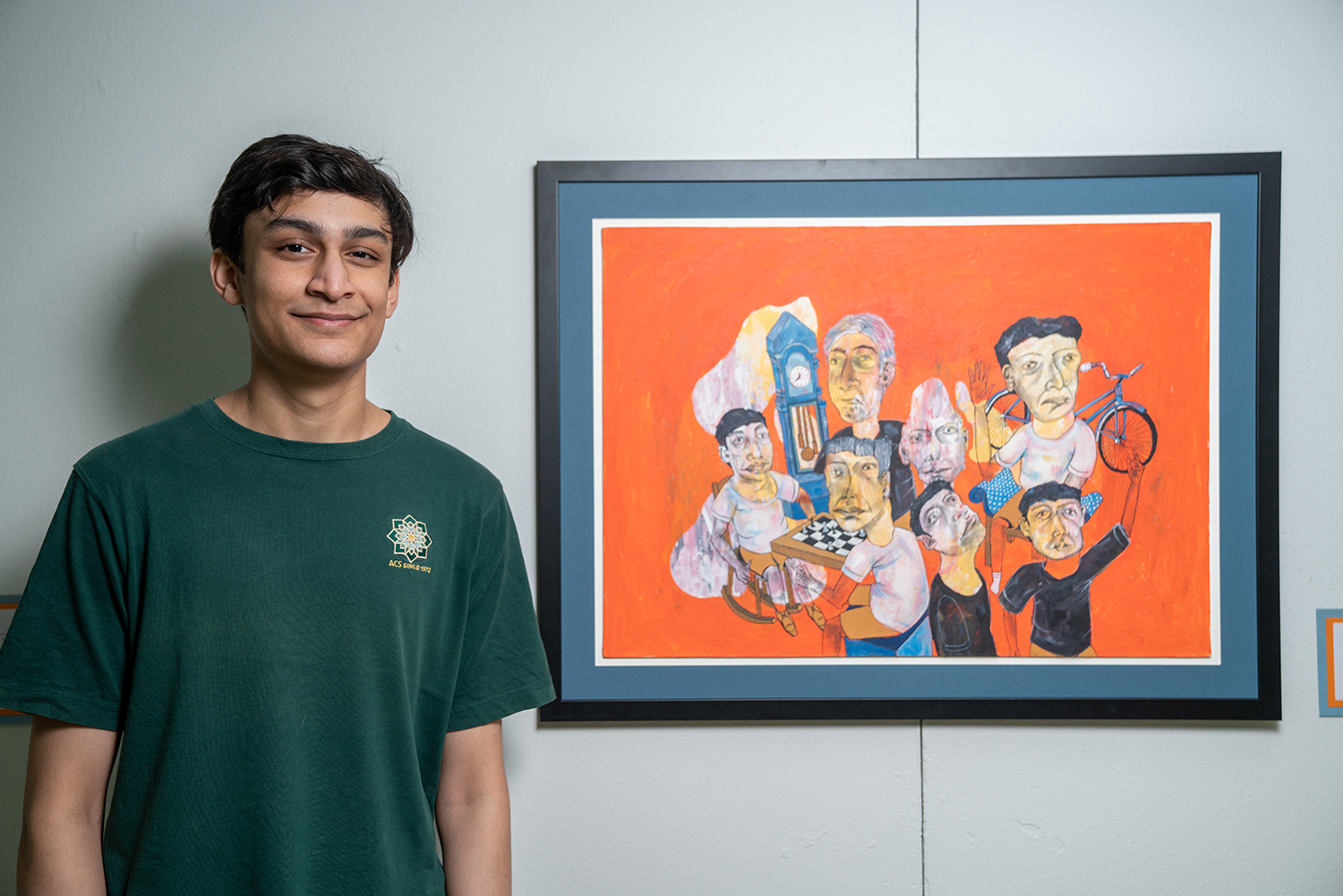 Hannah Watkins, 2019 Recipient
On May 16, 2019 during a ceremony at ACS, Hannah Watkins, an ACS student since KG1, became the 2nd recipient of the Medal.
She describes herself as "eco-friendly-obsessed" and in her winning essay wrote that she has "been sculpted by the values ACS holds. I owe the framework of my identity to this school."
Hannah's year as the ACS Ambassador of International Friendship built on her passion for the environment. She attended Abu Dhabi Sustainability Week and the World Future Energy Summit. Hannah also joined a delegation visiting from the US and together they toured Masdar City, NYU Abu Dhabi and the Emirates Diplomatic Academy. In addition, Hannah enjoyed a two-week internship at Environment Agency Abu Dhabi.
Elif Narbay, 2018 Recipient
In 2018 we were honored to present the inaugural Haitham Zamzam Al Hammadi Medal of International Friendship to Elif Narbay. Elif submitted a 1,000 word essay and was shortlisted for the rigorous interview process. She worked diligently and passionately in the role of ACS Ambassador of International Friendship. Throughout her senior year, she fulfilled the role of ACS Ambassador of International Friendship, with specific responsibilities, including volunteering at the Special Olympics World Games Abu Dhabi 2019, attending behind-the-scenes briefings at key Abu Dhabi events, participating in conferences, leading ACS school assemblies and being involved with an international delegation.
Read the Editorial about her experience in The National newspaper.