A great deal of learning happens during our Middle School Flex Time, which is a part of every students' daily schedule. This is where we incorporate Oasis, Exploratory, Service Learning and Community Assemblies.
Additionally, the Week Without Walls program is a pivotal component of our Middle School experience.
Oasis - Social-Emotional Well-Being
At ACS, Oasis serves as our Middle School advisory program. 
The purpose of our Oasis program is to foster an inclusive Middle School community by building relationships and exploring identity. It is a developmentally responsive program that provides a continuity of care for all students. Each year, students follow a pathway focused on critical thinking and reflective skills to enhance their understanding of self, connection to community and our wider world.
Students meet in their Oasis classes multiple times per week during Middle School Flex Times. Important resources in Oasis are our teacher mentors and the Project Wayfinder Belonging program, which we have adopted for the 2021-2022 school year.
Born from research at Stanford University, the Project Wayfinder curricula has been designed to address five core social and emotional learning (SEL) competencies in accordance with CASEL standards: self-awareness, self-management, social awareness, relationship skills and responsible decision-making.  
 
Exploratory Courses
Middle School students have the opportunity to take one "Exploratory" course per quarter. Exploratory classes are short, non-graded, inspiring exploration courses that meet once a week for a quarter (approximately 12 sessions). These courses teach students perseverance, communication skills, collaboration skills, creativity, how to reflect upon their learning and how to make good choices.  They also allow students the opportunity to discover and develop interests and passions. 
 
More information about this program will be communicated early in the school year.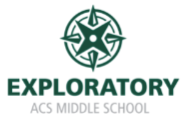 Community Assemblies 
Each week, our Middle School students gather in community assemblies to share information, share celebrations and have some fun. These assemblies are ways for students to connect with the greater school community, demonstrate leadership and share their talents and learning. Assemblies may be as small as a couple of Oasis groups meeting together or may include an entire grade level or the whole Middle School community. 
 
Service Learning
Service learning is essential to the experience of every ACS student. It gives students meaningful and relevant opportunities to connect with their communities and deepen their understanding of the world. 
Middle School students focus on a distinct service project at each grade level. Grade 6 students raise awareness and funds for Operation Smile, an organization that raises money to perform surgeries for children born with cleft palates. Grade 7 students work on a service project of their choice during Oasis time. Projects range from organizing a clothing drive or raising awareness for refugee crises to supporting our community stray cats and dogs. The focus of these projects is to learn about communities in need as well as the process of the project cycle. Grade 8 students have an immersive experience learning about Thai culture and spend a week participating in a variety of service projects.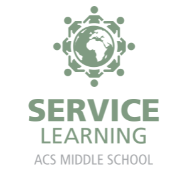 A Week Without Walls experience expands intercultural understanding and invites personal growth through off-campus opportunities that demand self-directed learning, effective collaboration, skillful communication, creative problem-solving and a refined awareness of their impact on a community and the environment as ethical global citizens who are caring, empathetic and respect diversity.
 
An ACS Week Without Walls experience should endeavor to include experiences that allow students to gain new perspectives for our ACS Core Values:
 
Compassion: Taking actions to understand how others think and feel and appreciate the value of difference. (Advocacy, Service: Local or Distant)
Courage: Having the confidence to take risks and do the right thing. (Outdoor Education, Values-based activities)
Curiosity: Being eager to learn and explore to gain a deeper understanding through inquiry and critical questioning. (Opportunities for productive and authentic engagement with members of a local community)
Integrity: Being honest, fair and responsible in words and actions, and staying true to one's principles (Serving as an ACS ambassador)