Blueprint for Tomorrow: Athletics
Blueprint for Tomorrow: Athletics
A Message from ACS Superintendent, Monique Flickinger
Recently, I had the pleasure of spending some time chatting with a grade 1 class. We talked about their day, what they ate for snack, how far they could jump…typical conversations with 6-year-olds. And then one little boy came up to me and confidently proclaimed, "When I grow up, I'm going to be a soccer player." Others chimed in and shared their future life goals – doctor, astronaut, teacher, actor, engineer, architect, you name it.
I smiled, because at ACS, our students become all of those things.
We firmly believe that athletics, academics, the arts and service learning are the pillars that build the foundation for a balanced learning program supporting the whole child.
Did you know that more than 50 percent of our new campus design is dedicated to athletics and activities? When we first began to think about the design of our new campus, we asked our community of parents, students, teachers, staff and alumni for comments about what was most important. One of the top priorities from the feedback was a robust athletics program housed in state-of-the-art facilities that enable our students to thrive. From our youngest learners in KG to our High School students, we recognize the role athletics plays in building character, helping with mental health and shaping personal growth.
Space to thrive
Our new campus will nearly double the size of our current campus, but enrollment will only increase by 30 percent. This strategy provides our students the required physical space to learn, explore and grow. The importance of physical activity for health and well-being is intentionally built into our curriculum at all ages, and the design of our new campus reflects the specific needs of the ages and competencies of our students.
Our Elementary School students participate in regular physical education and movement classes, recess and specialized classroom activities that build confidence and motor skills. Many students also participate in other in-school and after-school programs, including swim lessons, competitive sports teams and other activities.
On our new campus, the Elementary School will have its own expansive playing field and two indoor gyms, including one full-height gym for grades 1-5 and one gym with classroom-height ceilings for KG. Additionally, to support our popular swim program, we will have two pools within the athletic complex – one six-lane competitive swimming pool and another shallow four-lane training pool – to ensure we have the right space for all ages and abilities to learn and grow their skills.
In Middle and High School, our students continue to advance their knowledge by taking wellness and Physical Education classes. Students also can explore a variety of sports and activities by trying out for competitive team sports with some even traveling to competitions within the UAE and around the region. Some of our current sports available include badminton, baseball, basketball, cross-country, fast-pitch softball, golf, soccer/football, swimming, tennis, track and field, volleyball and wrestling.
    Our new campus will feature two pools– one six-lane competitive pool and one shallow four-lane training pool. 
Facilities for students and community
The athletic complex at the new campus was designed to ensure our robust and diverse athletics program continues to thrive and grow. In addition to the pools, courts, track and fields, students also will appreciate features like locker rooms for PE, swimming and visitors, an elevated indoor running track, and state-of-the-art workout, physio and wellness rooms. Our community will also find a home here with a cafe, dedicated booster club kitchen and multiple spectator seating for inside and outside competitions. I can already hear the roar of the crowd cheering on our amazing student-athletes!
One of the things we are most excited about is finally having the proper facility to host athletic events on our own campus. ACS is a founding member of the Middle East South Asia Conference (MESAC) and joins five other schools to compete in athletic and academic competitions: ABA International School of Oman, American Embassy School of Delhi, American School of Doha, American School of Dubai and Dubai American Academy. Each school takes turns hosting MESAC competitions on their campuses. Previously, we've rented facilities when hosting track and field events, but our new campus will be able to accommodate this onsite. The new six-lane running track encircling the FIFA-sized pitch on our new campus means that an athlete from each school can compete simultaneously. With three full-sized courts inside the athletic complex, volleyball and basketball MESAC conferences can run three games at once ensuring the athletes don't have to wait too long between each round.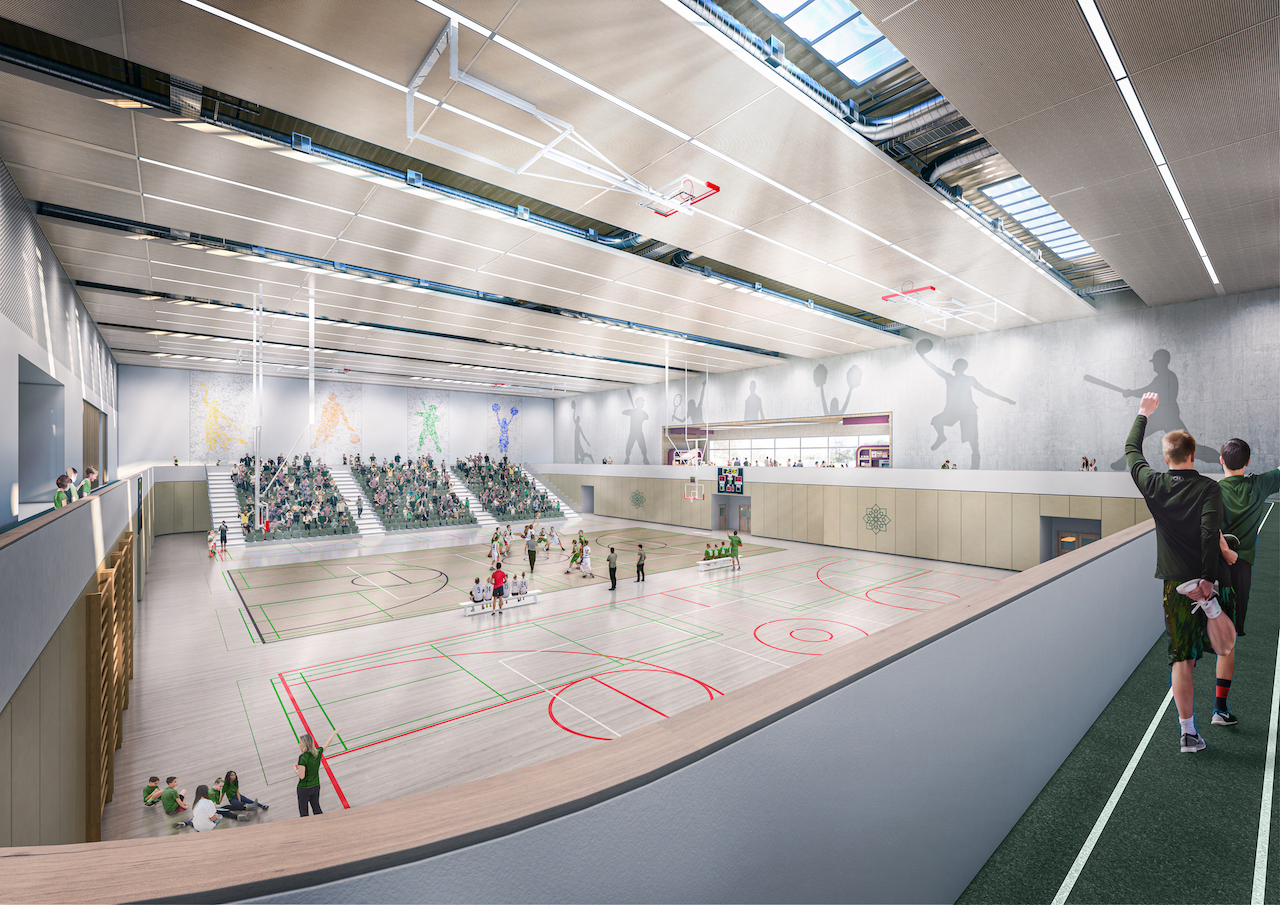 The athletic complex features classrooms, two swimming pools, three full-sized indoor courts, an elevated running track and numerous areas for spectators.
A testament to our community
The design of the new campus that will serve a vibrant athletics and activities program is the result of many conversations between our community, architects and school leadership. Our school has been so fortunate to have a strong relationship with our community and the dedication of so many members of staff and faculty. Kenny Macaulay, our Athletics and Activities Director, has been instrumental in ensuring our students are fully supported at every step of their physical development. He said it exactly right when he commented, "ACS will be able to expand our programs in a way we haven't been able to do previously. Our community will have the chance to come together in a really dynamic and purposeful way in support of our tremendous students. As I retire after 9 years at ACS, I'm happy to have played a part in preparing for the next chapter of ACS athletics with Preben at the helm."
Starting the 2022-23 school year, ACS will welcome Preben Gietz as the next ACS Athletics and Activities Director. He brings a combination of a strong track record of experience, a dedication for student empowerment, a collaborative spirit and a passion for co-curricular programs.
From the big picture overview to the smallest details, it's really amazing to be able to dream big about what our students and community need AND deserve. Our entire leadership team and board have really put extra effort into thinking through the expansion of our facilities and experiences for our student-athletes – from walking through an inspiring victory tunnel onto the field before a competition to having solar light fixtures in the gym that reduces glare while sustainably providing light and improved flooring that can help prevent injuries. It is exciting to know we will be able to reignite our community spirit with better and increased spectator seating, purpose-built areas for families to gather and other recreational spaces to hold events, picnics and festivals.
I'm so excited to see our plans coming to life as we continue to progress toward our 2023 opening. In fact, just this week, foundations were poured! Our new campus creates more opportunities for us to develop the next generation of lawyers, nurses, olympians, professors, politicians, artists and more.
Members of the ACS Board of Trustees visited the site earlier this week and walked through what will become a grade 6 classroom. Current work includes completing the ground floor slab for the Elementary School building and beginning the first-floor slab of the Middle and High School building. In the athletic complex, work continues in the basement area to house the pumps and mechanical rooms for the swimming pools and other campus requirements.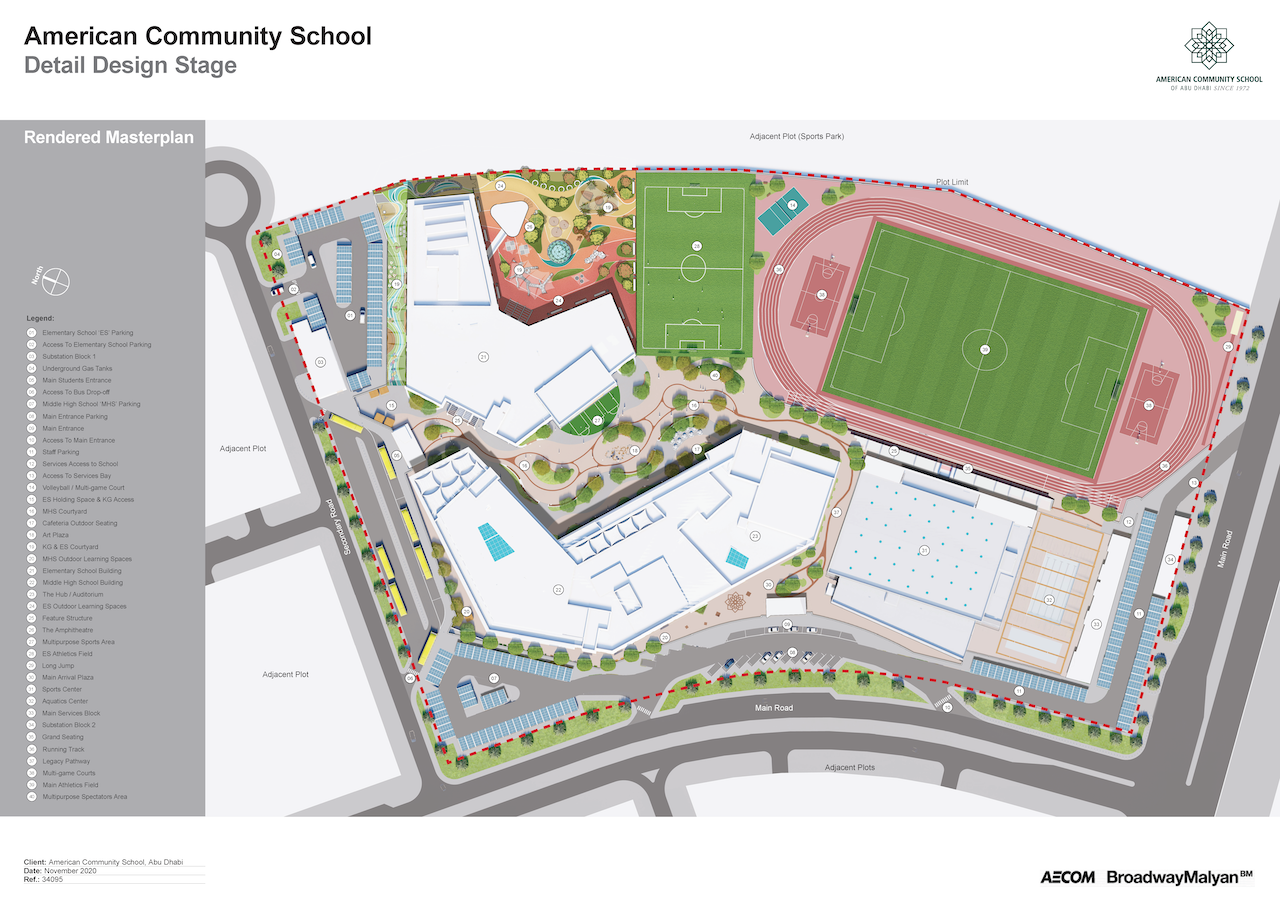 Offering the physical space to learn, explore and grow, the new campus will nearly double the size of our current campus with enrollment only increasing by 30 percent.